I feel like my head is cluttered right now. It seems like each time I'm doing good at keeping up on my blog, something happens which holds me back from continuing. My laptop got a virus, yet again. I know, you probably don't even believe me now. Yes, I had virus protection and still, my computer was invaded. It's hopeless I decided. That laptop was doomed from the start. I loved it, but it was doomed. So after coming to this conclusion I decided to start researching new laptops. Luckily it's the holidays, and all the stores are starting to have awesome deals on their electronics. So as I'm researching & researching, I found it. At midnight. I was watching QVC. Yes, me, watching QVC! And there it was... "HP Pavilion with 4 years of McAfee virus protection, plus Over $700 in software including Photoshop Elements 10 for just $529"... WHAT???!! It was like some sort of divine intervention. Like someone, somewhere knew just what I wanted/needed, and practically placed it in my lap. I immediately ordered, and today it came...
Isn't she lovely?! And I must say, I see now why so many women get addicted to QVC, it's like window shopping in the comfort of your own home. And then suddenly, you see it, that one thing you just MUST have. And it's at a killer price. So you order it, and did you know it only takes a few days to be delivered. It's fantastic!
* * * * * * * *
So I think the craziness really started a couple weeks ago. Duke was going to be in town for Halloween, so we thought it would be a good idea to bless the baby on the 30th, the day before Halloween. It was something we've been wanting to do, but with Duke's crazy work schedule we hadn't been able to plan it out. It was just supposed to be a simple gathering of family and close friends, where after we would all meet up at my dad's for some refreshments and snacks.
It turned into much more than that.
We (I) decided we should actually feed everyone, since most everybody was coming a pretty long way to be there. I settled on ribs & chicken from Famous Dave's. I figured the sides such as potato salad, beans and dessert was something that could be homemade by myself and a few loving family members in order to save on cost. Well, I was right, but let me tell you, ribs & chicken for 60 people is NOT cheap!
I asked a few family members to make a few things, but since I'm not very good at delegating who should make what, and I always feel guilty asking for favors, I decided I would make the potato salad & cornbread myself. This was a big mistake. Not only was I making the potato salad and cornbread, but I decided I should make it the night before so it would be fresh for the following day. That's fine, except that I didn't get started until 8:30 at night. Duke and I ran errands all day trying to find an all white outfit to bless Tiuke in, (this was a hard enough task to begin with), and we also picked up a new crib for him that day. (Not something that needed to be done RIGHT THEN!) We also still had to go shopping to buy everything we needed to make, and all of the plates, napkins, plasticware, etc.
I made 20 lbs of potato salad.
I got done cooking at 1:15am.
Thank goodness Duke was there helping me clean & peel & cut & boil and everything in between. It would have been much longer without his help. We were both exhausted, but that couldn't stop us, because we only had a few hours before we had to be up & getting ready for Tiuke's big day! So many people came to the blessing, and we felt so humbled. It was awesome seeing all the people who came to support our new baby. And we had even more people sending emails & text messages wishing us luck and congratulations from those who weren't able to be there. We are so thankful for all of the love that surrounds us and our beautiful family. It was a beautiful day, but I am so happy to have it over with!
(I'm a moron and forgot my camera that day with all the commotion. Don't worry though, we got lots of photos on my dad's camera, so I will be posting those pictures soon!)
* * * * * * * *
Halloween was awesome though! We were so tired that morning, and didn't feel much like doing anything. But we got it together about 5:30 and headed to Wal-Mart for some last minute costume necessities. Duke had no costume, so as we walked around the store searching for random accessories, silly shirts or shoes we found it, while wandering in the Christmas section. We stopped to admire the newest in "Santa Hat Technology", and then it happened. Duke picked up what looked like a camo hunting baseball cap with a pair of light-up antlers on it. It was HILARIOUS on him! I told him he had to get it!We took it with us and stopped over at the costume aisle just to see what they had, and it just so happened that they had a mullet wig on sale for $5. We couldn't pass it up! Duke already had a plaid coat at home and that was it!! He was a redneck hunter guy. It was AMAZING!! I went as the Sundrop girl. All it took was a Sundrop shirt from Wal Mart, some red leg warmers (which were actually socks because leg warmers are NOT easy to find!) and a $7 pair of "Mormon shorts" over my black leggings. Then Tiuke was a lime green Dragon! (I think I ordered his costume over a month in advance!!)
Luckily everyone was really understanding about us being too tired to travel across the whole valley just so they could see the baby in his costume, so we sent a photo to most everybody. We stopped over at Duke's sister's to see everyone there, but they were all out trick or treating, so then we headed over to Jocy's. She was so excited to see Tiuke in his costume, and they didn't have many trick or treaters so we were able to sit and visit for a while. Buddy was ready to get out of his costume and headed straight for the candy.

He wanted the candy so bad he was even willing to settle for the bowl instead.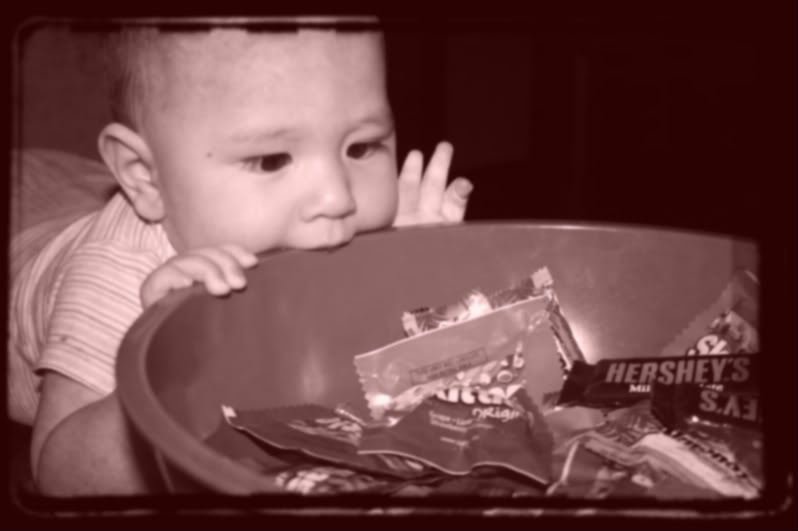 And after realizing all he was going to get out of it was a candy wrapper to suck on and drool all over, he decided instead he would tell Aunt Jocy all the stories about his very first halloween.
He was so happy!
And we were lucky enough to sneak in a family photo really quick before Tiuke passed out from a long night of Trick-or-Treating!
It was so nice to have Duke home. In 9 weeks I had only seen him for 4 1/2 days, so it was great being able to have him here. I felt like the whole time we were busy though, and didn't get any time to just sit home and relax. Hopefully next time he's here we can just enjoy being couch potatoes for a couple days!
* * * * * * * *
There is one thing though that I've always noticed about the time when Duke is here. The week before he came home I cleaned & cleaned and scrubbed & scrubbed. I went through everything, piles of cd's, cleaned out cabinets, sifted through "junk drawers" and I threw out EVERYTHING!!!
On the left... got my coupon book all organized and updated. And the picture on the right, well that's just a little craft I threw together in the middle of cleaning made out of random nik naks I found in the junk drawer!
And yet somehow, after all that cleaning and de-junking, my house still ends up looking like a hurricane came through after the week Duke is home. I don't know if it's me not wanting to spend the time cleaning while he's home, or maybe he just really is extra messy when he comes home, but there has to be some sort of explanation for why my house always seems to become a complete disaster by the time he goes back to work! Luckily though, my house is now back to normal, and will hopeful stay clean at least for the next few weeks until he's home again!!
October went by so fast and I can't believe we're already 9 days into November. I've been looking for a wreath or something to hang on the door for Thanksgiving, but it is not easy finding something that doesn't have pilgrims and turkeys all over it. But I finally found it today. I think it was made just for me.
Oh ya... it's got feathers! Feathers everywhere! It's such a cute, chic wreath. Just what I was looking for. I've got the most fashionable door on the block people!
And just as a goodbye note... I will leave you with these pictures. I'm spoiling my baby. Don't judge me. I got a popsicle out the other day, and he followed my every move from the second I pulled it out of the freezer. He kept looking at me with these adorable eyes that said "why can't I have any mom? Don't you love me?" Yes, yes I do. So I gave in. Don't judge me.
He's so big he thought he should hold it himself!
Happy Wednesday everybody!