I've got Jay Leno on in the background. Not because I'm watching, just because I need a little background noise in order to focus. His voice actually annoys me... sorry Jay. So I have it only turned up to the "2" notch on the tv. I can't believe it's January and I'm just now writing about November. Why do I do this? I can't remember November. I can't even remember most of yesterday! So, I guess a more appropriate title would be "Thanksgiving", considering that's just about the only thing I remember about November.
October seemed to creep up on us, and in a flash it was gone. It seemed as though Halloween came, and the next morning we woke up to Thanksgiving. Suddenly I was running around to every grocery store within a 2 mile radius of my house (which is LITERALLY 4 different stores) getting everything I would need for 4 pumpkin pies, an apple pie and about 30 rolls. I wouldn't normally need to go to 4 grocery stores for these items, but I guess in the frantic commotion of the holiday, and hoping to get everything done right, and done just in time, I kept forgetting "that one other ingredient". Needless to say, as it was the night before Thanksgiving at about 10 o'clock at night, with my honey home for the holiday, I was not going to spend the entire evening baking. So I decided to scratch the apple pie, (there would be other pies, like grandmas always delicious Pecan Pie), and just do the 4 pumpkin. (One was to stay at our house, of course!) Then I would just get up the next morning and get the rolls made, so they would be nice and warm for dinner.
Could someone please explain to me why I wasn't aware that it takes 3 1/2 hours to make rolls?? Anybody?? It was 2 hours until we were supposed to leave, and I had gotten myself showered, hair done, and makeup started. I figured it would be a good time to go downstairs and get the rolls started so they could cook while I finished getting myself and the baby ready for the big day. I walked down to the freezer, pulled out my very large bag of frozen rolls, and read the directions. Allow 3 1/2 hours for rolls to rise and bake. WHAT???
So, after a lot of contemplating, (ok, not a lot. About 2 minutes), I decided to scratch that idea. The grocery stores were open until about 4 that day, so we would just make a last minute pit stop to pick up some bagged, already-made rolls. This hurt. My grandmother is the cook of the century. Everything she makes is homemade. She's the epitomy of "that grandmother with the spotless house, emaculate yard, and hot meal in the oven AT ALL TIMES". I knew this would be a disappointment. I don't know how she does it. I am a mother to one baby and 2 teenagers, and I can't find enough time in the day to get the kitchen clean and a single load of laundry done. Let alone raise 6 kids and a husband, and keep a spotless house, with virtually no dirty laundry to be found ANYWHERE, and still have a deliciously cooked homemade-from-scratch meal on the table every night. I know I'm getting a bit off subject, but you can see how I would be disappointed not to be bringing hot, fresh, oven cooked rolls over. I had one job, bring a couple pies and some rolls, and I couldn't even accomplish that. Now I was starting to understand why people say the holidays are so stressful!
But we made it there. Bagged rolls and all. And no one complained!
Grandma's table is always set so cute. It just wouldn't be grandma's without some "table flare" as I like to call it! I think that's where I get my love of decorating tables. Weird, I know!
There weren't many of us there this year. Which was kind of nice. I remember growing up, and coming to my grandparents' house to see all of my cousins. You could hear little feet running across the kitchen tiles and screams of laughter as the younger kids would chase each other around the house. (Then, without fail, would always be followed by one of the aunts yelling "out of the kitchen!") Us "older kids" would hang out on the living room floor playing with grandma & grandpa's old Tinker Toys while we waited for all the finishing touches to be done with the tables and food. And waiting to hear grandma yell for grandpa to come cut the turkey. This meant it was time to rush to the kitchen to guard your place in line. But not this year. This year there was just about a dozen of us. It was nice to have a more intimate dinner where we could all hear each other talking. Still, there wasn't enough room for everyone at the dining room table, so mom, John and Josh & Janessa sat at the small, what we usually call "the kids table"! Mom just HAD to take Tiuke with her! He was spoiled, of course, and got to eat the majority of mom's mashed potatoes, yams, and got his first taste of stuffing. Then his second taste, and third, and so on!!
You can see Aunt Debbie's candied yams way down the line. I don't know what she does to those things, but they are, without fail, the best thing on the table every year. Pretty sure I shamefully had 3 servings!!
I love his "Oh no, grandma... they caught us" look!


After dinner we headed for the living room where everyone sat and laughed, and played with the baby. We got caught up on the latest adventures in everyone's lives, and just got to enjoy each other's company. And baby was happy!!
You see him holding uncle Josh's thumb?! Yep, they're pals!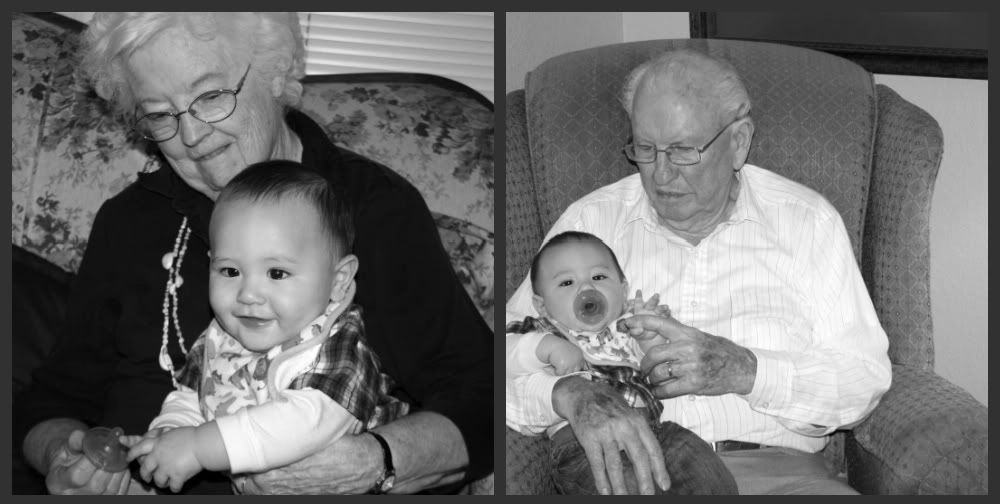 Oh I can't EVER pass up an opportunity to get pictures of him with his great grandparents! They're just so great with him!


It was such a nice Thanksgiving. I'm really starting to get sentimental about holidays and traditions. Even more than I was before having a baby. I realize now how important my traditions were growing up, and I just hope to be able to pass on some of those, and make even more new ones for my little ones. But at the end of the day, family is what makes the holidays the holidays, and I'm so thankful to have my family. And I must say, I am so blessed to have such a kind and wonderful man by my side. His being gone makes each day a challenge, but when he gets to come home for the holidays, it makes it even that much sweeter!
Hope everyone enjoyed their Thanksgiving!
Uncle Chris let him "borrow" his cool watch!